Administrators
Staff member
Administrators
Joined

Nov 13, 2016
Messages

2,492
Points

114
Location
Sonork ID

100.1668199
QQ ID

2675654861
Skype ID

gsm shamim
oppo a71 cph1801 pin lock remove done by umt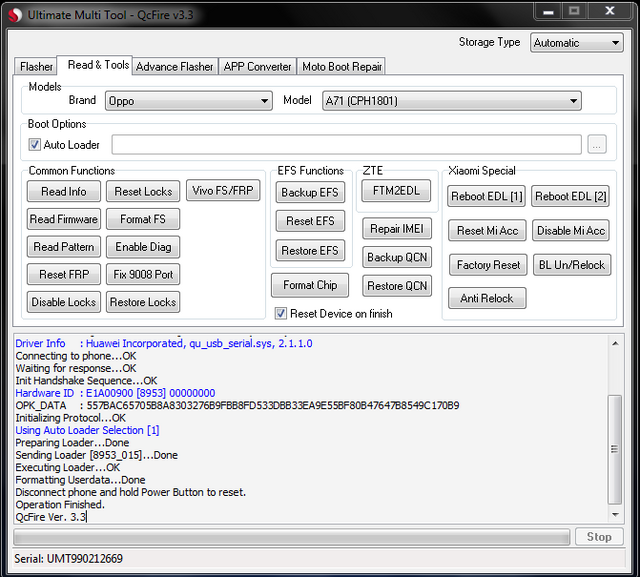 Device : Oppo A71 (CPH1801)
Operation : Format FS
Checking for existing devices...Not Found
Turn Off phone, hold Vol UP + Vol DOWN and insert USB cable.
Some phones may need Special Boot Cable or TestPoint for EDL mode.
Found Port : Qualcomm HS-USB QDLoader 9008 (COM64)
Driver Info : Huawei Incorporated, qu_usb_serial.sys, 2.1.1.0
Connecting to phone...OK
Waiting for response...OK
Init Handshake Sequence...OK
Hardware ID : E1A00900 [8953] 00000000
OPK_DATA : 557BAC65705B8A8303276B9FBB8FD533DBB33EA9E55BF80B47647B8549C170B9
Initializing Protocol...OK
Using Auto Loader Selection [1]
Preparing Loader...Done
Sending Loader [8953_015]...Done
Executing Loader...OK
Formatting Userdata...Done
Disconnect phone and hold Power Button to reset.
Operation Finished.