Joined

Nov 13, 2016
Messages

2,239
Likes

1,457
Points

114
Age

31
Sonork ID

100.1668199
QQ ID

2675654861
Skype ID

gsm shamim
oppo F9 new security free pin pattern frp unlock done mrt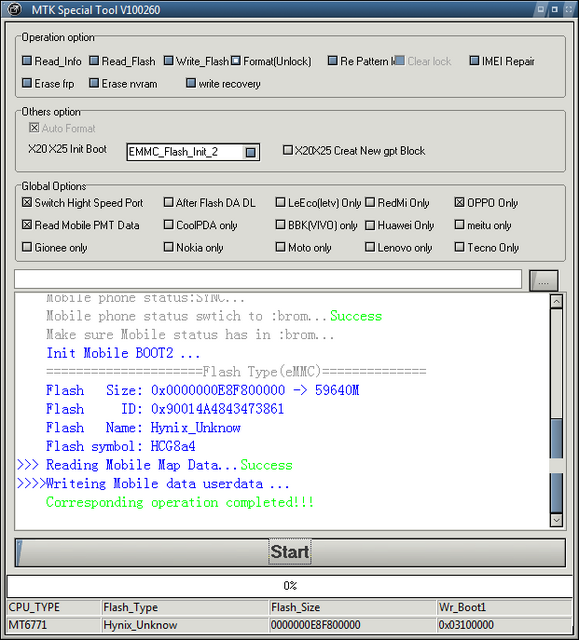 Disconnect Mobile...
Re-Put the Mobile Bettery...
Then Connect your Phone to Computer again....
Please Make sure Mobile better has Power...
>>> Searching Mobile Port...
Get Mobile Port is: COM68
>>> Device driver identification:
MediaTek USB Port
>>> Mobile Has Connect...
CPU_NAME: MT6771
>>> Reading Mobile Hardware Info...Success
HW_Inf: 8A00 SW_Inf: CA00
>>> Initialization Mobile ...>>> Sending Auth File To Mobile...Success
>>> Downloading Boot1 To Mobile Phone...Success
Mobile phone status:SYNC...
Mobile phone status swtich to :brom...Success
Make sure Mobile status has in :brom...
Init Mobile BOOT2 ...
=====================Flash Type(eMMC)==============
Flash Size: 0x0000000E8F800000 -> 59640M
Flash ID: 0x90014A4843473861
Flash Name: Hynix_Unknow
Flash symbol: HCG8a4
>>> Reading Mobile Map Data...Success
>>>>Writeing Mobile data userdata ...
Corresponding operation completed!!!
oppo f9 test point