Joined

Dec 13, 2016
Messages

2,866
Points

114
Location
Xiaomi Redmi Note 4 [OFFICIAL] Liquid Remix [PIE] [Snapdragon] Custom ROMs, Gapps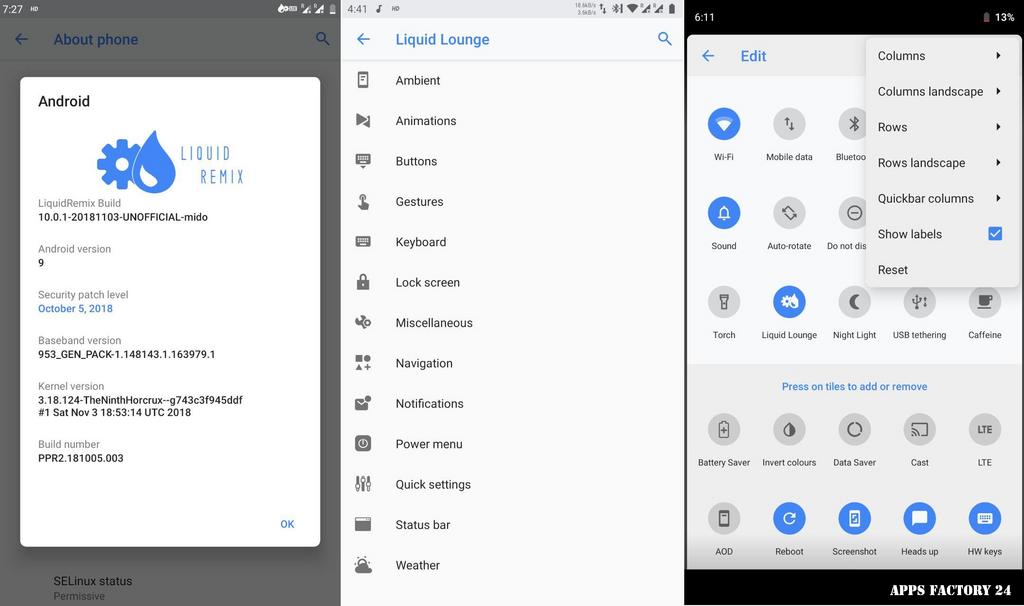 Xiaomi Redmi Note 4 [OFFICIAL] Liquid Remix [PIE] [Snapdragon] Custom ROMs, Gapps
Welcome to LIQUID REMIX! Liquid Remix is a New age mix of all the best ROMs of today with added essence from the older days. Android9.0 project based from the old lead dev of Liquid smooth,
Our Android Development Team is very end user oriented; we care about what you want and bringing it to you. We do as much as we can to keep our users happy while primarily focusing the aims on stability, speed, optimizations, other additions and features that complement the ROMs as well as some frequently requested user add-ons.
Have any questions, comments or concerns? We would love to hear from you and keep our users happy, improve where possible when criticized or when bugs are found. Please; let us know on either (Our team checks
DISCLAIMER:
While our ROMs and kernels are tested prior to release for stability, to help prevent any major problems, the following is just a disclosure. Using any rooted features, ROMs or modifications, is at your own risk. We are not to be held responsible for any damages that may be encountered or any warranties voided by rooting a device etc...
ROM OS Version: 9.x Pie
ROM Kernel: Linux 3.x
Version Information
Status: Stable
Google (For AOSP)
Lineage OS (Rom Base)
And all other Open Source Apps Factory 24 Teams and Organisations
DOWNLOAD:
INSTALLATION GUIDE:
Recommended Clean Flash:
1. Must be decrypted, that is if coming from miui whether directly or indirectly, you must have formatted your internal storage at least once even if any rom you used before did not have this as requirement
2. Not strictly necessary, but it is advisable to always remove any kind of screenlock (pattern, pin, fp etc) before flashing
3. Go to Recovery "Wipe"
4. Advanced Wipe
5. Dalvik/Art Cache, System, Data and Cache ONLY!! DO NOT WIPE INTERNAL STORAGE
6. Swipe to Wipe
7. Flash Rom and Gapps (Then anything else you might install such as Magisk, etc)
8. Enjoy!